An Overview of Trach and Ventilator Care for Patients with ALS
Disclaimer: This is in no way medical advice. We are not doctors and have no professional medical training. Brian has had ALS since 2011. Based on what we have learned and what works for us, we share what we know with the hope of helping increase awareness of the reality of life with a trach, ventilator and ALS. 
Caring for someone on a ventilator is not an easy task but certainly something that almost anyone can handle, with training and practice. I'd love to say it takes an approximate amount of time per day, but it varies with each patient, along with each day. Some days require nonstop care while other days are calm and quiet.
One thing is certain. Being on a ventilator means the ALS patient will require 24/7 care and must be monitored constantly. A caregiver should be within earshot of the ventilator alarm at all times.
Finding home care has been a challenge (we are in the U.S.). The tasks can get messy and it can be hard on your emotions, but thank goodness for a ventilator. There are still good times to be had, memories to be made and life to be LIVED!
While the specific equipment you have might be different than ours, the basic tasks for trach/vent care are the same.
The most common tasks associated with care include:
Daily Cleaning Routine
Trach and Mouth Suctioning using Cough Assist Machine
Trach Suctioning using Suction Machine
Tube and Adapter Cleaning
Circuit Replacement
Organizing and Ordering Supplies
Breathing / Other Treatments
Replacing Trach Periodically
1. Daily Trach Cleaning Routine 
Daily, Morning
Brian likes to go ahead and get the trach cleaning routine done and out of the way as soon as he wakes up. This daily routine includes cleaning the stoma site, replacing the inner cannula and gauze, as well as the trach collar when necessary.
This routine takes about 15 -20 minutes, depending on the amount of mucus in the trach, and must be completed every day. Keeping things clean and infection free is of utmost importance, so this step should not be skipped. Click here to see our routine.
2. Trach and Mouth Suctioning using Cough Assist Machine
Daily
The trach requires suctioning throughout the day. We use our cough assist machine to get out the bigger, thicker mucus plugs. A hose runs from the machine then gets placed directly onto the trach. The cough assist machine blows air into the lungs, then pulls it back out.  It does both of these with a bit of force, enough to the shake the patient's body. It can bit a bit unsettling to see at first. 
When pulling the air back out, the machine suctions the mucus out of the inner cannula, clearing the airway. It might take a few cycles to get the mucus out and sometimes you might need to add a few drops of saline into the trach. This helps break up the mucus, making it easier to get out. 
3. Trach Suctioning using Suction Machine
Daily
When there is mucus built up in the inner cannula, but not a larger mucus plug, we can use the suction machine with a suction catheter. A suction catheter is a thin tube that actually goes down into the cannula. 
Catheters are included in kits that contain gloves, the catheter tube and a small cardboard box used to hold water for rinsing the tubing after use. The tube and gloves are disposed of after use.
Over time, you'll know when suctioning is needed as soon as the patient does, and well before the vent alarm goes off. The circuit from the patient to the ventilator makes different sounds as mucus builds up. After some time I can usually tell which machine I need to use just by the sound coming from the vent tube.
4.  Tube and Adapter Cleaning
Daily
Using the cough assist machine requires lots of tubing and adapters. There is one main tube that connects to the machine. From there, small plastic adapters connect short sections of tubing. 
When suctioning, once mucus gets into a section of tube, that section is removed, then you move on to the next section. Depending on the day, we might go through ten tubes or we might go through 60 tubes. Some days Brian's body doesn't produce much mucus. Other days it feels like all we do is suction and clean tubes and adapters. Those days are demanding and heavy on the heart.
5. Circuit Replacement
Weekly
Each week I replace the circuit that goes from Brian to the ventilator. The circuit is made up of several parts. This task is quick and easy. All I have to do is grab the supplies, open them, build the circuit and replace it for the old one.
The old one then gets broken down and I wash the parts that can be reused.
6. Organize and Inventory Supplies
Varies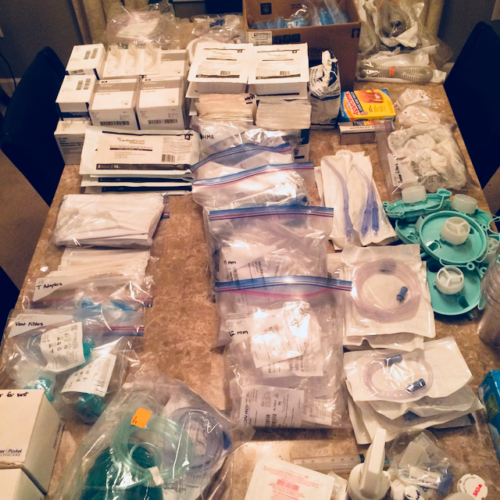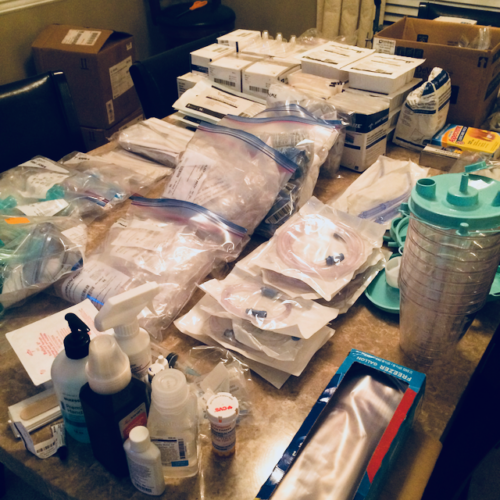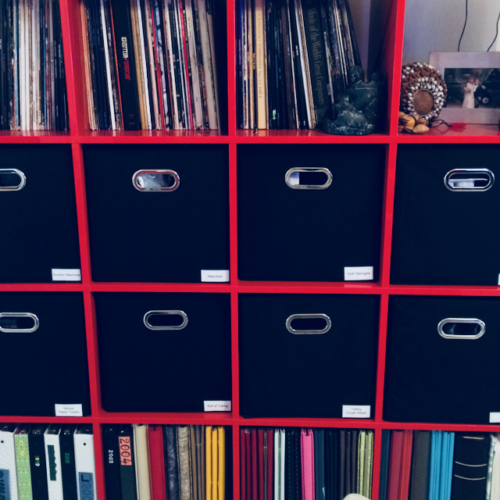 Managing supplies is a task in itself. You'll want to stay on top of this so you don't run out of anything you really need. I try to order supplies once per month, though sometimes we might need something else here and there.
We've changed home care companies a few times and they all have a different process / turnaround time. We've done everything we can to stay with our respiratory company, including letting a home care company go because they wouldn't work with them. As with all aspects of dealing with this disease, finding a good company makes a big difference.
We've been with our respiratory company since the beginning of Brian's pulmonary decline and we love them. Brian's respiratory therapist, Rob, is one of a kind. A genuine, caring person who understands our needs, and when something is a priority.
7. Breathing/Other Treatments
Varies
Some patients require breathing (nebulizer) treatments from time to time. When Brian first came home with the trach he did breathing treatments a few times per day. Once he felt stable and used to the ventilator he stopped the treatments and thankfully has not needed them since.
Nebulizer treatments include a liquid medicine that gets misted and flows into the trach tube. An adapter is put into the circuit. A treatment typically takes 15 minutes or so. Brian did a few nebulizer treatments before he was on the vent but he's never really liked them, though they make a big difference for some PALS.
8. Trach Replacement
Varies
The entire trach should be replaced periodically. Your doctor will recommend what's right for you. Brian gets his trach replaced every six months or so. I could do it myself but we both prefer a nurse or doctor to do it.
So, that's basically it in a nutshell. Are you freaking out right now? You're freaking out right now, aren't you? DON'T! It seems like a lot but it's just another 'thing'. Another thing that you get used to, that becomes normalized and part of every day life.
Is it overwhelming? You bet your butt it is. It can be emotionally draining as well. But you can do it! It can be done and the whole thing can be incorporated into LIVING.
We hope this helps! Good luck on your ventilator journey. You got this!